The past week has been tough. I go through my daily routine and spend a lot of time retreating into my family, both to provide and receive support. My teaching job has also been a lot, lot more difficult. I spent several hours in my office today consoling two minority students who are afraid they or their families will be deported — and they're all US citizens born in Texas.
Through the nightmare, people have tried to make sense of America's new reality with a simple tool — the post-it note. If you're reading this, you may know that my dissertation was on the use of post-it notes and talk-back boards in museums to develop better visitor engagement, inform museum staff, and potentially encourage historical empathy. These spontaneous talk-back boards appearing in places like Union Square and on college campuses are rooted in protest, healing, and outrage are different, but too similar for me to ignore.
With both spontaneous and museum talk-back boards, people seek public interaction and usually express thoughts they may not vocalize. At the museums I've studied, a range of difficult subjects appeared, sometimes in strange locations: arguments for (and against) the Equal Rights Amendment at a women's history site, stories about discrimination at a large American history museum, and discussions of LGBT rights at a civil war museum. Talk-back respondents seek solace in this momentary expression and in knowing other visitors feel the same way. Many expressed love and hope; many expressed fear and doubt. But each post-it note creates a moment where public sentiment becomes tangible, visible, and physical. The same can be said of spontaneous talk-back boards, although the emotional content is much more visible. These notes comes from the heart, from a place that is largely inaccessible except through deep, long, meaningful conversations. That's part of the reason why these boards are special.
This past week, Manhattan's Union Square spontaneously transformed into a site of protest, healing, outrage, and love. The project was spurred by Matthew "Levee" Chavez, the guy who came up with Subway Therapy, who encouraged subway travelers to place post-it notes on the tiled subway walls underneath the words "Express Yourself." Chavez supplied the pens and paper; New Yorkers supplied the rest. In his most recent blog post, he channeled "Express Yourself" into a message of hope:
Do not just be upset. Do not just be angry. Do not just be fearful. Do not let your energy and power go to waste. Do something that is good. Encourage healthy conversation. Be good to one another. Do something that helps people to understand each other. Channel your energy into something that will bring people together. If I can do it, you can do it.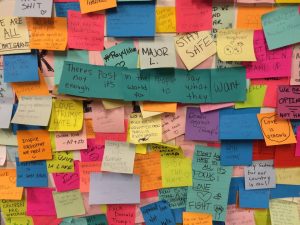 Again, some people expressed love and hope, including the following responses: "Stay Safe", "Love is always the only way…", "FIGHT hate with love", "People show love for all", "Inspire each other we need it :)", and "love is the sweetest thing." Many others expressed fear and doubt, most often channeled through clear anger: "Fuck Fascists", "Still with HER!", "We must remove the mask! God Help us", and "my sadness for our country is real." With all their different perspectives, New Yorkers are coming together over their great social anxieties. This wall in particularly is special because it gives us a glimpse at a city's public discourse, public sentiment, and public memory, constructs that are typically only theoretical or observed through formalized surveys.
This board has clearly struck a nerve and is inspiring others. Post-its of inclusiveness and support appeared in New York subway cars; dozens of similar post-it notes appeared in Dundas Station in Toronto; and female high-school students are using the technique to protest within their schools' hallways and bathrooms. Another example comes from MIT where students put up posters on campus encouraging others to publicly share their hopes and fears.
---
This use of post-it notes for protest and healing has precedence in museums and on college campuses. Last year, a number of these spontaneous talk-back protests emerged in connection with Black Lives Matter and the debate surrounding monuments to Confederates and slaveholders. Most notable was when students at the University of Missouri affixed post-it notes reading "slave seller", "racist", and "rapist" to a statue of Thomas Jefferson on campus. According to organizers, the main goal here was to engage the past and confront its ugly aspects head-on: "It's a symbol of violence to many students. We talk about wanting to fix the culture of sexual violence and racism on campus, but that its here. What really are the values of the University of Missouri?" In this moment, students used the post-it note to question their surroundings and, like New York, to express thoughts that cannot be easily expressed through other mediums. Further, both the Mizzou students and New Yorkers likely feel they never had a platform to express these thoughts and, albeit small, the talk-back boards serve that purpose. Finally, these boards typically emerge spontaneously, but both MIT and Union Square prove these moments can be catalyzed into creation just as they are in museums. In this way, these public protest boards are highly similar, perhaps functionally identical, to museum talk-back boards. The major difference is that spontaneous boards typically emerge out of disturbances in public sensibilities, such as the 2016 election or a police shooting.
A writer for Hyperallergenic — Allison Meier — described a similar post-911 New York phenomenon as "Like the sticky notes, they're unmonumental, unfiltered, but each is a personal action, and in their number is a powerful solidarity." I agree with Allison on virtually everything she says in her article except for one word: unmonumental. Monuments (and talk-back boards) are fundamental expressions of a society's deeply held values and both reflect and affect public memory. Like talk-back boards, monuments are not permanent, but are meant to commemorate through public expression. In this way, these talk-back boards are monuments, just they do not look like a standard built structure with which we are familiar.
One Twitter user coined the phrase "Walls of Empathy" in describing a spontaneous post-it note display in a San Francisco BART station, which is a great name for this phenomenon — but it does have limits. There have been plenty of calls for empathy in the past few weeks, most often specifically aimed at educated liberals who scoff at white Trump voters. These "walls of empathy" are a starting point to address this supposed liberal shortcoming, at least in places with a concentrated population. Spontaneous boards help people better understand their neighbors, some of whom they may vehemently disagree with (but may never vocalize those disagreements). But do not confuse the need for "walls of empathy" as a need to empathize with all. Empathy is not sympathy, and empathizing with a person — or a voter — does not mean accepting their entire perspective. A huge portion of Trump's support is based in hate, xenophobia, and bigotry. Empathize with voter's legitimate economic concerns, but do not forget that outright bigotry (or a willingness to allow bigotry) strongly motivated a huge percentage of these voters as well.
To conclude this incredibly jumbled post…this is still a tough time, but one NYC post-it note (left, below) seems to have captured the combination of hope and cynical laughter that I needed right now. This is indeed the only wall we need, but it's still not enough. As another writer (right, below) expressed across six notes, "Theres not enough post its in the world for people to say what they want." No doubt.